Mason Public Schools Opens James C. Harvey Education Center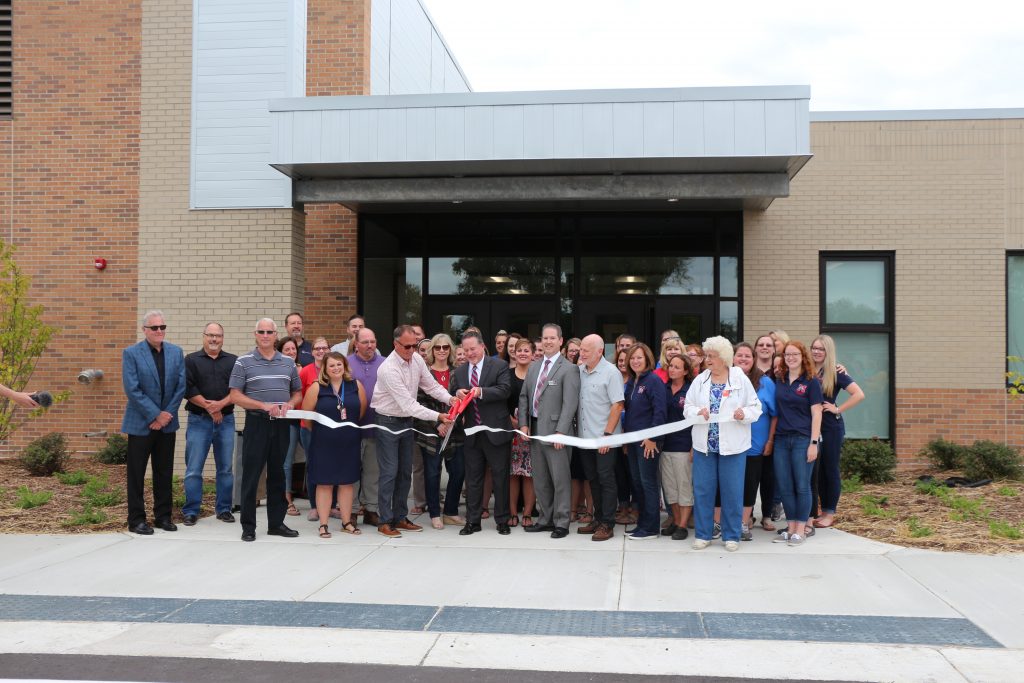 The first major project funded by the Mason Public Schools' (MPS) $69.7 million bond, the largest in District history, is complete. This week, the community joined District and Mason Chamber of Commerce representatives to cut the ribbon on the project which broke ground in August 2018. The ribbon cutting took place just prior to a community open house in which students, parents and residents were encouraged to tour the building.
The renovation of the James C. Harvey Education Center (HEC), which was previously Cedar Street Elementary, is the first project completed in Phase 1. Construction and renovations at North Aurelius Elementary and Alaiedon Elementary are ongoing and scheduled for completion in August 2020. In 2009, Cedar Street Elementary was repurposed due to declining enrollment numbers and renamed after former Superintendent, James C. Harvey. The HEC housed the Child Development Center and District administration offices. After the passing of the bond in the fall of 2017, the plan was to move all of the Kindergarten classrooms to the HEC. Strengthening this connection between early childhood and Kindergarten students is a unique approach for school districts to reinforce learning and literacy efforts for its youngest minds.
"First and foremost, we want to thank the community for investing and believing in Mason Public Schools," said Angie Vandecar, Principal of the Harvey Education Center. "Blending staff and parents from four different buildings was no easy feat. But this project and the driving goals of better connecting early childhood and kindergarten programs together, are so important to the growth of this community through high-quality education for our earliest students."
Mason Public Schools is committed to academic excellence in a safe environment where students develop critical thinking skills, are empowered to succeed, and are encouraged to serve their community.