McLaren Greater Lansing Debuts Cutting-Edge Stroke Robot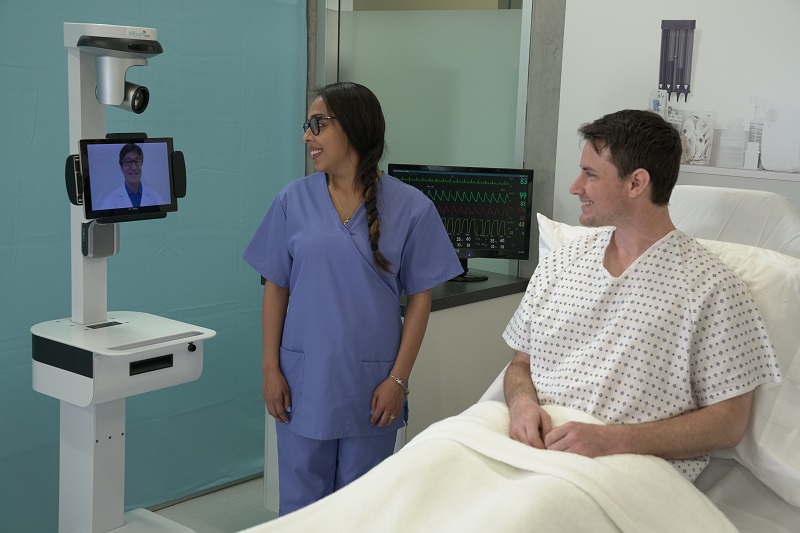 When someone is having a stroke, every second counts. At McLaren Greater Lansing, new stroke robot technology is helping physicians work with incredibly specialized experts to choose a path of care at a moment's notice and give patients their best chance at recovery.
"A person is losing about 2 million brain cells each minute that the blood flow to the brain is impacted," said Aniel Q. Majjhoo, MD, Medical Director, McLaren Health System Neuroscience and Stroke Network. "This technology gives McLaren the ability to make critical decisions with patients and their loved ones as quickly as possible."
Strokes are the fifth-leading cause of death in the United States and cause the highest number of long-term disabilities. Once a blood vessel bursts or is blocked and oxygen stops flowing to the brain, time is ticking for a person's future.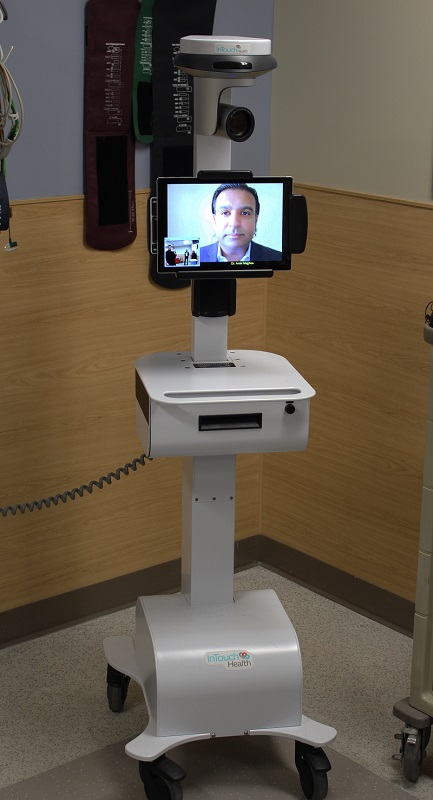 The compact InTouch Vici stroke robot can be moved at a moment's notice and uses an integrated system of live streaming two-way audio and video to share health information instantaneously. The TeleStroke System allows the interventional neurologist to beam into the patient's bedside from a remote location and assess the patient, review CT scan images, and discuss best options for the patient with onsite physicians and the patient's family.
"McLaren is able to offer interventional neurologists trained in neurology, stroke, and neurocritical care who also have a two-year fellowship in neurology," said Dr. Majjhoo. "Our team takes stroke calls 24 hours a day, seven days a week, so an expert can be involved in seconds rather than having to take multiple steps to contact them."
The McLaren Stroke Network was founded four years ago and has a proven track record of outcomes that are significantly higher than the benchmark that is typically expected from adding stroke robot technology.
"Joining the McLaren Tele-Network via Tele-Stroke is an exciting advancement for McLaren Greater Lansing that will only improve our already excellent stroke care," said Jeneen Hinkle, Neurology Program Coordinator. "This technology helps physicians here in Lansing to make the best choices for treatment, including surgical options, more quickly than ever before."
About McLaren Greater Lansing
McLaren Greater Lansing and McLaren Orthopedic Hospital operate the region's most distinguished cardiovascular and orthopedic surgery programs that—together with McLaren Greater Lansing's oncology, women's care and wide-ranging diagnostic, therapeutic and surgical services—consistently lead in clinical quality and efficiency. The hospitals are part of McLaren Health Care, mid-Michigan's largest health care system. Visit mclaren.org/lansing.
About McLaren Health Care
McLaren Health Care, headquartered in Grand Blanc, Michigan, is a fully integrated health network committed to quality, evidence-based patient care and cost efficiency. The McLaren system includes 14 hospitals, ambulatory surgery centers, imaging centers, a 490-member employed primary and specialty care physician network, commercial and Medicaid HMOs covering more than 620,000 lives in Michigan and Indiana, home health and hospice providers, retail medical equipment showrooms, pharmacy services, and a wholly owned medical malpractice insurance company. McLaren operates Michigan's largest network of cancer centers and providers, anchored by the Barbara Ann Karmanos Cancer Institute, one of only 49 National Cancer Institute-designated comprehensive cancer centers in the U.S. McLaren has 26,000 employees and more than 85,500 network providers. Its operations are housed in more than 350 facilities serving Michigan and Indiana.