STEAMfest 2019 comes to LCC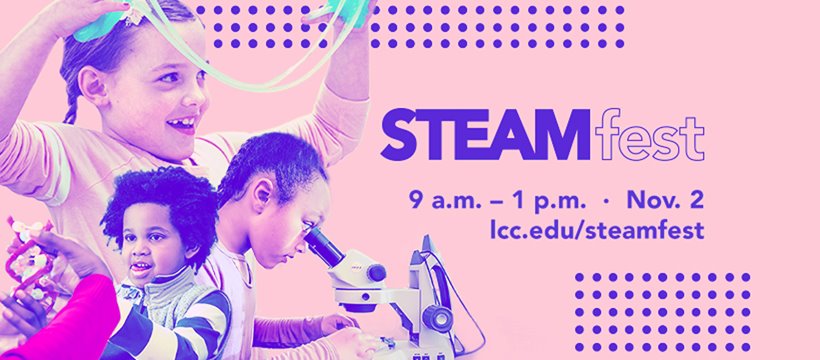 Lansing Community College is inviting students in grades K-6 to STEAMfest at LCC 9 a.m. – 1 p.m. Saturday, Nov. 2. This FREE event will be held at the Downtown Campus in the Arts & Sciences Building located at 419 N. Washington Square with free parking in the Gannon Ramp, 600 N. Grand Avenue.
STEAMfest will provide a fun and exciting day of exploration in STEAM (Science, Technology, Engineering, Arts and Mathematics). There will be more than 50 hands-on activities, including Drawing in Proportion, IR Photography, Create A Comet, Fun Math, Spirals, Fantastic Frogs, Elemental Extravaganza and Weather or Not. The atmosphere is one of learning without the pressure of competition.
This annual event has been held at LCC for over thirty years. It began as an elementary version of the competitive Science Olympiad and was converted to a non-competitive version around 10 years ago.
We are thrilled to welcome back the arts to this event. Melissa Kaplan LCC academic and arts outreach coordinator said, "Arts activities this year create a bridge to the sciences. Young people can experience the magic of stroboscopic photography, learn costume techniques to make a mini-monster or a nature pouch, create characters in theatre games, make an audio speaker, and learn some stage combat tomahawk techniques."
The day will be filled with wonderful opportunities for young people to experience STEAM concepts in a fun and interactive environment.
To learn more about STEAMfest 2019 or to register, please visit https://lcc.edu/community/youth-programs/steamfest.html
About Lansing Community College
Lansing Community College, founded in 1957, is one of the largest community colleges in Michigan, serving more than 23,000 students across a six-county area each year. LCC offers courses in general education for those interested in transferring to a four-year institution, career and workforce development, developmental education and personal enrichment. To meet the professional development and training needs of regional employees, the college offers customized programs for credit, non-credit and continuing education. The University Center at LCC offers students the opportunity to earn bachelor's and master's degrees from five partner universities on the downtown LCC campus. For more information, visit lcc.edu.
Lansing Community College is committed to providing equal employment opportunities and equal education for all persons regardless of race, color, sex, age, religion, national origin, creed, ancestry, height, weight, sexual orientation, gender identity, gender expression, disability, familial status, marital status, military status, veteran's status, or other status as protected by law, or genetic information that is unrelated to the person's ability to perform the duties of a particular job or position or that is unrelated to the person's ability to participate in educational programs, courses, services or activities offered by the college.
The following individuals have been designated to handle inquiries regarding the nondiscrimination policies: Equal Opportunity Officer, Washington Court Place, 309 N. Washington Square Lansing, MI 48933, 517-483-1730; Employee Coordinator 504/ADA, Administration Building, 610 N. Capitol Ave. Lansing, MI 48933, 517-483-1875; Student Coordinator 504/ADA, Gannon Building, 411 N. Grand Ave. Lansing, MI 48933, 517-483-1885; Lori Willett, Human Resource Manager/Title IX Coordinator, Administration Building, 610 N. Capitol Ave. Lansing, MI 48933, 517-483-1870; Christine Thompson, Student Title IX Coordinator, Gannon Building, 411 N. Grand Ave. Lansing, MI 48933, 517-483-1261.