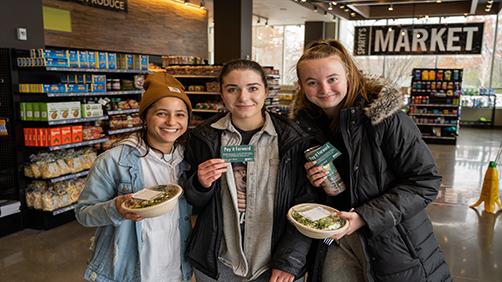 Employees from MSU Federal Credit Union (MSUFCU) were in the community sharing gift cards for free coffee, lunch, gas, or tickets to a movie theater during the week of Nov. 11-15 as part of a Pay It Forward initiative. This annual event coincides each year with the Credit Union's anniversary — Nov. 15 —fulfilling one of the Credit Union's values: giving back to the community. This year, employees distributed $8,200 on behalf of the Credit Union, corresponding with its 82nd anniversary.
During the weeklong campaign, Credit Union employees paid for individuals' coffees, teas, gas, and lunches at many Greater Lansing area businesses including Coffee Barrel, Constellation Cat Café, Point Laundromat and Cleaners, Small Cakes, and Sparty's Market. Relay for Life Eaton County received a $500 donation, along with two individuals: Pam Miklavcic, Executive Director of The Davies Project of Lansing, and Bonnie Kalahar, a local Lansing woman who alters donated wedding dresses into handmade burial gowns for infants that have passed away while in Sparrow Hospital's NICU.
"Our Pay It Forward campaign is an exciting event for employees," said Whitney Anderson-Harrell, MSUFCU's Chief Community Development Officer. "We look forward to sharing kindness in our communities by handing out gift cards, paying for meals, and donating to area charities selected by our employees. Pay It Forward is an impactful and important Credit Union tradition."
Now in its seventh year, employees were in all communities that have MSUFCU and Oakland University Credit Union (OU Credit Union) branches, including Auburn Hills, Berkley, Clarkston, Ortonville, Greater Lansing, Charlotte, Holt, Grand Rapids, and on the Oakland University and MSU campuses sharing kindness and encouraging recipients to Pay It Forward.
Over the past 82 years, the Credit Union has expanded its service, donations, and volunteerism to serve its membership and communities. We appreciate our members' continued support — we wouldn't be where we are today without them!
About MSUFCU
MSUFCU has a national reputation for excellence and has received several top industry and workplace awards. The Credit Union was named in the top 100 best workplaces for women by Fortune for the third year, in the top five Michigan credit unions by Forbes Best-in-State Credit Unions, Best Workplace in Financial Services and Insurance by Fortune Magazine, received the ATHENA Award® for Organizational Leadership, and for the fifth year, was named West Michigan Best and Brightest to Work For. MSUFCU was named one of Michigan's Best and Brightest in Wellness for the fourth consecutive year, has been certified as a Great Place to Work® for six consecutive years, and was named as a Top Workplace in the large employer category by the Detroit Free Press for six consecutive years. The Credit Union has also been recognized for its financial education initiatives, ranking first for the Alphonse Desjardins Adult and Youth Financial Education Awards, and the Louise Herring Award as well as an honorable mention for the Dora Maxwell Award by the Michigan Credit Union League. Founded in 1937, MSUFCU has 19 branches, more than 284,000 members, $4.5 billion in assets, and more than 900 employees. l