10 Over the Next Ten Awards
In partnership with Lansing 5:01, this award ceremony celebrates Greater Lansing's top young professionals who are anticipated to contribute to the community significantly over the next 10 years. The winners are selected on professional achievement and community involvement.
Nominees must be 35 years old or younger and worked in the tri-county region for a minimum of two years (as of Oct. 1 of the current year).
Nominations for the 2023 10 Over the Next Ten Awards now closed. Thank you!
Past 10 Over the Next Ten Recipients
2022
Kimberly Barber - Globetrotter Travel
Matea Caluk - Education Department at Michigan State University
Aurelius Christian  - Lansing Economic Area Partnership
Amber Clark - Meridian Township
Lorin Cumberbatch - Skin Studio 211
Xavier DeGroat - Xavier DeGroat Autism Foundation
Adrian Joseph - Goodfellas Bagel Deli
Jordan Munsters - High Caliber Karting and Entertainment and Combat Karting, LLC
Molly Petitjen - Buhl, Little, Lynwood and Harris, PLC
Ernest Tisdale - EDUStaff
2021
MiChaela Barker
Elvin Caldwell
Brian Daniels
Mallory DePrekel
Justin Hewson
Nate Kirk
Quincie McCalla
Breina Pugh
Brian Sapita
Kirstyn Waldron
2020
Matthew Anderson
Zachary Armstrong
Ceci Bordayo
Grace Braatz-Opper
Amanda Davis
Katie Krick
Joe Lewis II
Lisa Nguyen
Josh Robertson
Lillian Werbin
2019 Recipients
Farhan Bhatti
Priscilla Bordayo
Kara Christy
Joel R. Conn
Aylysh Gallagher
Amy Jackson (Harris)
Dan Opsommer
Lindsay Peters
Andrew (Andy) Wirostek
Mary ZumBrunnen
2018 Recipients
Tamera Carter
Katie Hamilton
Katherine Japinga
Brian Johnson
Camara Lewis
Rachel Lewis
Greg Rokisky
Alexander Rusek
Stanley Samuel
Christine Zarkovich
2017 Recipients
Dan Wilkinson, Dart Bank
Danielle Lenz, Edge Partnerships, LLC
Cameo King, Grit, Glam, & Guts
Ashlee Willis, Michigan Premier Events and Lansing Mosaic
Josh Holliday, Lansing Economic Area Partnership (LEAP)
Luan Nguyen, Cinnaire
Corey Rees, ASL architecture | design
Nick Nauta, Nick Nauta Financial, LLC
JJ Ubonwan Saeung, Schaefer Dental Group & Volunteers of America
Julie Holton, mConnexions
2016 Recipients
Lauren Aitch, Lady Aitch and Our Own
Michael Bass, Friedland Industries
Patrick Dean, Dean Transportation
Tyler Dyke, State of Michigan
Veronica Gracia-Wing, Piper & Gold Public Relations
Angela Minicuci, Michigan Department of Health and Human Services
Michael Nordmann, Morrison, Nordmann and Associates
Ben Rathbun, The Rathbun Agency
Christopher Sell, Lansing 5:01
Jose Yanez, Full Circle Financial Planning
2015 Recipients
Andrew Belanger, Michigan Economic Development Corporation
Scott Dane, Capital Area Soccer League
John Kaczyinski, Saginaw Valley State University
Amanda Lick, Michigan Pharmacists Association
Lauren Long, Curvaceous Lingerie
Aaron Pumfery, EDGE
Stephen Purchase, H. Incorporated
Joseph Quick, Michigan Works! Association
Jodi Schafer, Human Resource Management Services, LLC
Tony Willis, LEAP
2014 Recipients
Kelly King, Downtown YMCA Wellness Center
Joe Manzella, Trustcott Rossman
Suban Nur Cooley, Capital Gains Media
Steve Japinga, Lansing Regional Chamber of Commerce
Katie Lynwood, Bernick, Radner, & Ouellette, PC
Ken Szymusiak, Institute for Entrepreneurship & Innovation, Broad College of Business
Nicole Martin, Ingham County Michigan Youth Opportunities Initiative
Mindy Biladeau, Downtown Lansing, Inc.
Jeff Hertrich, Accident Fund Holdings, Inc.
Sarah Anthony, Michigan College Access Network and Ingham County Commissioner for District 3
2013 Recipients
Josh Hovey, Truscott Rossman
Peter Spadafore, Acuitas, LLC
Brian Gallagher, Fraser, Trebilcock, Davis & Dunlap, P.C.
Nicole Szymczak, Lansing Community College
Andrea Kerbuski, Capital Area Michigan Works!
Nikali Luke, Simplified Tax & Accounting Service PC
Emily Caswell, M3 Group
Andrea Ragan, Capital Area IT Council
Timothy Schmitt, City of East Lansing
Joseph Lee Yang, Boys & Girls Club of Lansing
2012 Recipients
James F. Anderton, V, Loomis, Ewert, Parsley, Davis & Gotting P.C
Brian Bratta, MS, ATC, CSCS, Michigan State University Athletic Training Department
Nicholas Chilenko, Nicholas Creative
Adam Henige, Netvantage Marketing
John Miller, Artie's Filling Station
John Lindenmayer, League of Michigan Bicyclists
Jake Pechtel, Potter Park Zoo
Nicole L. Proulx, Fraser Trebilcock Davis & Dunlap P.C.
Amber Shinn, Shinn Marketing Communications
Kate Snyder, APR, Piper & Gold Public Relations
2011 Recipients
Benjamin Bakken, American Eagle Superstore
Kristin Bellar, Clark Hill PLC
Tim Bograkos, Michigan State University Alumni Association
Michael Ciranna, WorkSquared
Ryan Doom, Web Ascender
Joe Ford, Netvantage Marketing
Diontrae Hayes, Office of Senator Coleman Young
Brittney Hoszkiw, Old Town Commercial Association
Marc Merritt, Merrill Lynch
Evan Pinsonnault, WLNS TV 6
2010 Recipients
Thomas A. Stewart, Common Wealth Enterprises
Rochelle Rizzi, Rizzi Designs, LLC
Tremaine Phillips, Prima Civitas Foundation
Jeffrey McWherter, Gravity Works Design
Tobi Lyon, Adams Outdoor Advertising
Paul Jacques, Michigan State University
Kat Cooper, Michigan State University
Sarah Jennings, Maner Costerisan, CPA, PC
Jessica Knott, TechSmith
Adam Van Lente, RetroDuck.com, Inc.
2009 Recipients
Chad Badgero, Peppermint Creek Theatre Company
Justin Caine, Good Fruit Video
Cory Chvala, Culvers of Okemos
Julielyn Gibbons, i3 Strategies
Jennifer Middlin, TechSmith
Rory Neuner, Michigan Environmental Council
Tom Ruis, Independent Bank
Jeff Smith, City of East Lansing
Nathan Triplett, City of East Lansing
Danielle Weller, Jackson National Life
2008 Recipients
Brian Anderson, Lansing Economic Development Corporation
Kira Carter, Sparrow Specialty Hospital
Tiffany Ford, Michigan State University Federal Credit Union
Camron Gnass, Traction
Ryan Henry, Kincaid Henry Building Group
Matthew Hill, Liquid Web
Jamie Schriner-Hooper, Old Town Commercial Association
Brigham Smith, City of Lansing
Karen Stefl, Such Video, Inc.
Jessica Yorko, Sustainable Solutions
2007 Recipients
Scott Gillespie, The Gillespie Company, L.L.C.
Marsha Zimmerman, Dart Development Group
Aaron Matthews, Clark Hill P.L.C.
Erik Larson, Impression 5 Science Center
Elizabeth Lyon, State Bar of Michigan
Bree Popp Woodruff, Miller Canfield Paddock & Stone P.L.C
Eric Stevenson, US Capital Mortgage and The Firm Food & Spirits
Jennifer Estill, Redhead Design Studio
Emily Matthews, Foster, Swift, Collins & Smith, P.C.
Ryan Vartoogian, Spartan Internet Cons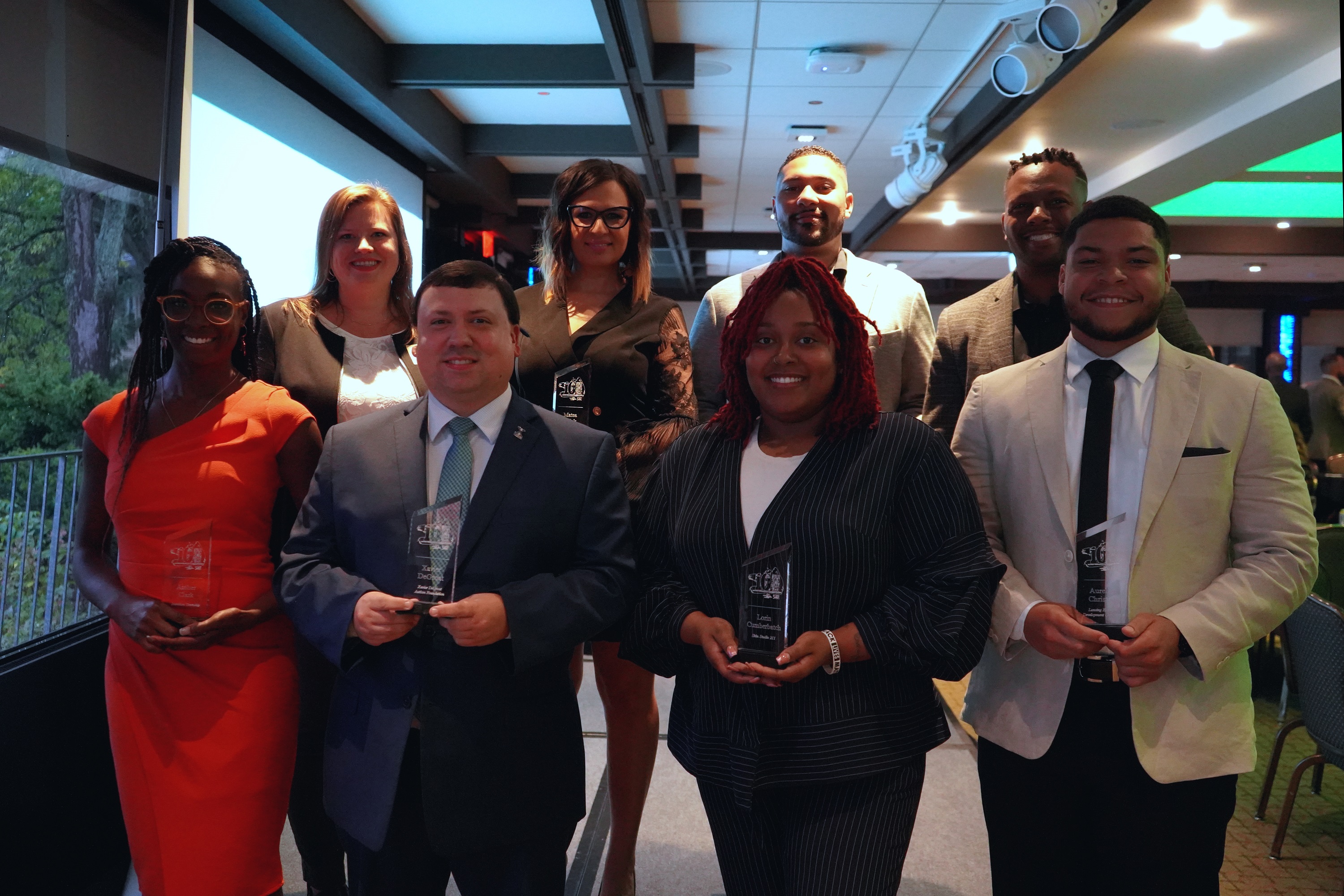 2020 10 Over the Next Ten Awards Program