Lansing Regional Chamber-Political Action Committee
The Lansing Regional Chamber-Political Action Committee (LRC-PAC) works to elect local officials to city councils, township board, county commissioner and the state legislature that align with LRCC members' priorities.
As the region's only political action committee, we know how important it is that your voice is represented at every level of government. To make that happen and continue our success, we need community investors like you to contribute to our efforts.
As the only business political action committee focused on elections in the Greater Lansing region, your contribution is critical to ensure we get our endorsed candidates elected.
The objective of LRC-PAC is to endorse candidates that support a favorable business climate throughout the region.
The Lansing Regional Chamber of Commerce Political Action Committee (LRC-PAC) has announced its general election endorsements. To view the full list, please click here: LRC-PAC General Election Endorsements for Congress, State, and Local Offices 
U.S. Congress, State Senate & House Candidates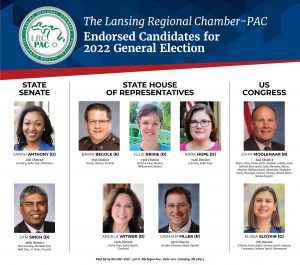 County & Lansing City Council Candidates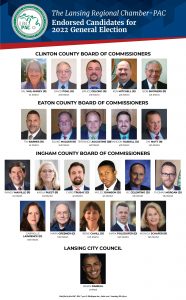 The Lansing Regional Chamber reviews and weighs in on ballot questions that affect our region's employers and workforce. Please find the following ballot questions that are up for consideration in our region.
*Please note that staff will update this section of the Advocacy page if the Lansing Regional Chamber takes a stance on any ballot issues.

Nov 8, 2022 Election

StatewideProposal 22-1 – Term Limits & Financial Disclosure

Constitutional Amendment: Changes term limits to maximum of 12 years served and mandates state elected officials disclose personal finances. (View Ballot Language)

Proposal 22-2 – Voter Rights (Promote the Vote)

Constitutional Amendment: Creates fundamental right to vote, allows absentee ballots to count if received within six days after election day and postmarked by election day and enables use of affidavit instead of photo identification at the polls. (View Ballot Language)

Proposal 22-3 – Abortion Legalization

Constitutional Amendment: Makes abortion legal under Michigan law. (View Ballot Language)

Local

Clinton County

Johns Public Schools Operating Millage Proposal

Eaton County

Ingham County

Delhi Charter Township Fire & Emergency Medical Equipment & Vehicle Millage Renewal Proposal
Fowlerville District Library Renewal Proposal

August 2, 2022 Election

Clinton County
Separate Tax Limitation Proposal 
Eaton County
9-1-1 and Central Dispatch Millage Renewal and Restoration Question

Results:

Approved 17,213 to 5,860

Juvenile Millage Renewal and Restoration Question

Results:

Approved 15,728 to 7,220

Waverly Community Schools Operating Millage Renewal Proposal

Results:

Approved 2,290 to 986

Ingham County
NEW: Animal Control Program Operations & Services Question

Results: Approved 41,534 to 13,760 votes

Juvenile Millage Renewal and Restoration Question 

Results:

Approved 40,476 to 14,557 

City of Lansing: Ballot Question on selling the North Cemetery

Results:

Approved 9,477 to 7,253

Meridian Township: Ordinance to Prohibit Adult-Use Marihuana Establishments

Results:

Failed 6,158 t0 6,146

Meridian Township: Senior Citizen, Recreation, & Human Services Millage Renewal

Results:

Approved 9,615 to 2,489

Haslett Public Schools: Sinking Fund Millage Proposal 

Results:

Approved 2,631 to 1,451

Capital Area District Library Ballot Proposal for a District Wide Tax

Results:

Approved 33,961 to 15,550