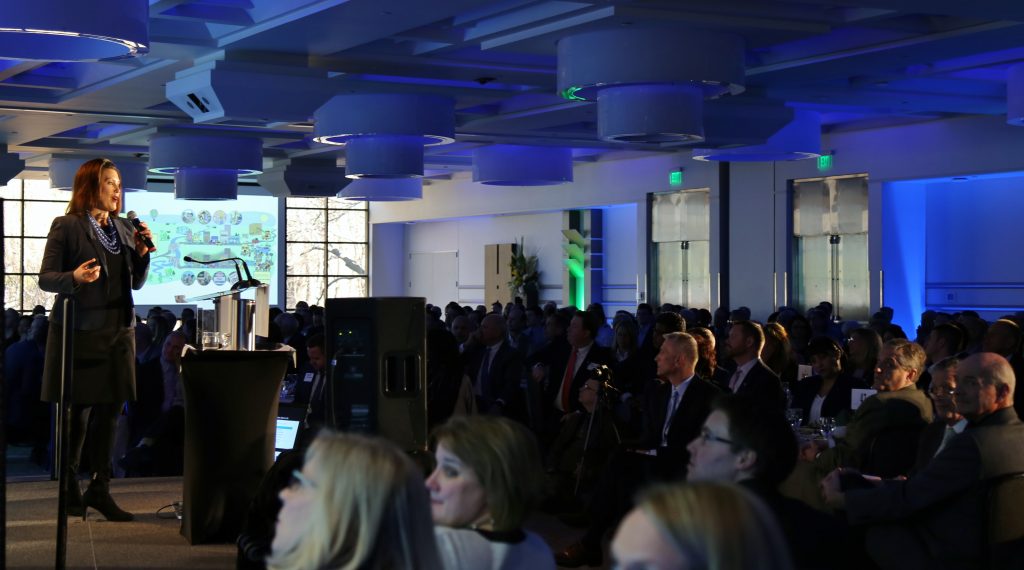 Interested in attending a Lansing Regional Chamber signature event? Registration is available on the Chamber Calendar.
Annual Dinner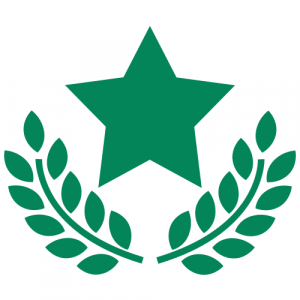 Join hundreds of Lansing Regional Chamber members and prominent decision-makers to celebrate the success of our region's business and community leaders. Every year, we recognize the small businesses, entrepreneurs and exceptional organizations that make an impact in the Lansing region.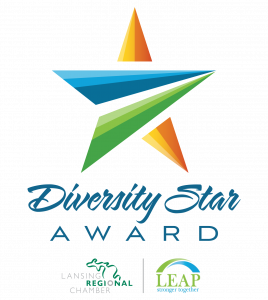 Diversity Star Award 
The Diversity Star Award honors companies and organizations within the Lansing region that demonstrate a solid commitment to advancing equity and creating inclusive environments, champion efforts for diversity and equitable practices in the workplace and beyond, support underserved and underrepresented employees and communities and contribute to a more just and equitable region.
The LRCC and LEAP will present the annual Diversity Star Awards at the LRCC Annual Dinner.
Nominees will be evaluated using the following criteria:
In what ways can you show diversity in business and community through a demonstrated track record? Provide metrics, case studies, other examples.
How has your company demonstrated diversity, equity and inclusion in management structure, board of directors' makeup, and company culture, including processes for career progression and promotion?
In what ways has your company exhibited diversity, equity and inclusion in your workforce development efforts through company goals and efforts to recruit, retain and nurture a culturally diverse workforce?
How has your company demonstrated support for diversity in the marketplace through company goals and efforts in procurement practices that reflect a diverse vendor and supply chain? In what ways has that been successful for your company and your vendors?
Provide examples of your business being a diversity, equity and inclusion champion within your community. How have you supported or collaborated with area initiatives to improve and recognize diversity in the Lansing region?
Is your business located in tri-county region (Ingham, Clinton and Eaton counties)?
The Community Service Award honors outstanding individuals who give their time and expertise to the community, above and beyond their own field of endeavor, and demonstrate excellence, creativity and initiative in all they do. This individual is an inspiration to the community, both in their profession and in their efforts to make the Lansing region a better place to live, work and play.
Nominations can be submitted here
2020: Joan Nelson, Allen Neighborhood Center
2019: Kelli Ellsworth Etchison - LAFCU
2018: Amy Stephenson - Helping Women Period
2017: Jim Robinson, Farm Bureau Insurance
2016 - Paula Cunningham, AARP of Michigan
2015 - Mark Hooper, Andrews Hooper Pavlik PLC
2014 - Tim Staudt, WILX-TV
2014 - Pat McPharlin, MSU Federal Credit Union
2013 - Michael G. Harrison, Foster, Swift, Collins, and Smith P.C.
2013 - Deborah L. Harrison
2012 - Dr. Joseph Hess, Greater Lansing United Nations Association 
2011 - Bob Hoffman, Wharton Center for Performing Arts
2010 - Lupe Izzo
2009 - Jeff Hicks, Hicks & Mullett, PLLC
2008 - Kelly Rossman-McKinney, Truscott Rossman
2007 - David E. S. Marvin, Fraser Trebilcock Davis and Dunlap, P.C.
2006 - Dorothy E. Maxwell, The Max Weingar Group Jems & Jewels
2005 - James C. Epolito, State of Michigan
2004 - Kellie P. Dean, Dean Transportation, Inc., Dean Trailways of Michigan
2003 - James W. Butler III, Michigan Broadband Authority
2002 - Jack Davis, Loomis, Ewert, Parsley, Davis & Gotting, P.C.
2001 - Ev Beemer, Lansing Regional Chamber of Commerce
2000 - Duane Vernon, Credit Bureau of Greater Lansing
1999 - John Demmer, Demmer Corporation
1998 - Edward Souders, Panurgy of Mid-Michigan
1997 - Jud & Louise Werbelow
1996 - J. Christopher Holman, The Greater Lansing Business Monthly
1995 - Albert A. White, Whitehill Development Corporation
1994 - Wayne Williams, Williams Auto World
1993 - Louis E. Legg, Lumber Company
1992 - Richard A. Letts, City of Lansing
1991 - Donald A. Hines, Fraser, Trebilcock, Davis & Foster
1990 - James L. Ruetter, Lansing Ice & Fuel
1989 - Kenneth Patenge, Wolhert Corporation
1988 - Edward B. McRee, Ingham Medical Hospital
1987 - Robert Clark, Capitol Federal Savings Bank
1986 - Ed Vogt, BOC Oldsmobile Group
1985 - Jack Breslin, Michigan State University
1984 - W. K. Prudden, Pioneer Honoree
1984 - Ted Sondag, Lansing State Journal
1984 - Ransom E. Olds, Pioneer Honoree
1984 - George Washington Peck, Pioneer Honoree
1984 - Francis J. Carr, Pioneer Honoree
1984 - Charles A. Davis, Pioneer Honoree
1983 - Fritz Bennetts, Oldsmobile Division of GMC
1982 - Robert Fisher
1981 - Monsignor Jerome MacEachin, Catholic Diocese of Lansing
1980 - Walter W. Neller, Walter W. Neller Company
1979 - William J. Porter, Porter Realty Company
1978 - Dr. Edgar Harden, Michigan State University
1977 - Dr. Theodore Bauer, Physician
1976 - Lucile Belen, Belen's Flowers
1975 - Albert F. Schmidt, Schmidt's Supermarkets
1974 - Philip J. Gannon, Lansing Community College
1973 - Albert C. Boyd, Lansing Regional Chamber of Commerce
1972 - Joseph Alexanian, Alexanian's Rugs
1971 - Claud Erickson, Board of Water & Light
1970 - Hugo Lundberg, Lundberg Screw Products
1969 - Howard Grimes, J. W. Knapp Company
1968 - Floyd Estes, Estes-Leadley Company
1967 - Walter F. Patenge, Wohlert Corporation
1966 - Rabbi Phillip Frankel, Shaarey Zedek Congregation
1965 - John A. Hannah, Michigan State University
1964 - William R. Carlyon, Consumers Power Company
1963 - William C. Searl, Auto-Owners Insurance Co.
1962 - Edward G. Hacker, Edward G. Hacker Company
1961 - Talbert Adams, Abrams Aerial Survey
1960 - Howard J. Stoddard, Michigan National Bank
1959 - Joseph R. Gwinn, People's Finance Service
1958 - Fred Wohlert, Wohlert Corporation
1957 - Jack F. Wolfram, Oldsmobile Division, GMC
1956 - Dwight H. Rich, Lansing School District
1955 - M. J. Maynard, J.C. Penney Company
1954 - Paul A. Martin, Lansing State Journal
1953 - C. W. Otto, Lansing Regional Chamber of Commerce
1952 - F. N. Arbaugh, F. N. Arbaugh Company
1951 - Hugo B. Lundberg, Lundberg Screw Products
1950 - Earle W. Goodnow, Atlas Drop Forge
1949 - J. Gottlieb Ruetter, Lansing Ice & Fuel
1948 - Clarence C. Carlton, Motor Wheel Corporation
Outstanding Small Business Award
The Outstanding Small Business Award honors a local small business that meets the criteria of stability, innovation, a commitment to community, perseverance and diversity.
Nominations can be submitted here
2020: Public Sector Consultants
2019: Hayhoe Asphalt
2018: American Fifth Spirits
2017: Byrum Builders
2016: Triterra
2015: M3 Group
2014: Friedland Industries, Inc.
2013: Harvest Creative Services
2013: Stony Point Communications
2012: Van Martin, CBRE|Martin 
2011: Dr. Marcy Street, Doctors Approach
2010: Steve Trecha, Integrated Strategies, Inc.
2009: Terry Terry, Message Makers
2009: Jeffrey D. Padden, Public Policy Associates 
2008 - Charles Creamer, Midwest Transaction Group
2007 - Charlie Smith, Smith Floral & Greenhouses
2006 - David G. Chapman, David Chapman Agency, Inc.
2005 - Matt Rhodes, Dusty's Cellar
2005 - Irene Savoyat and Chris Reay, Creative Wellness Holistic Health Center
2005 - Howard & Vivian Ballein, Student Book Store
2004 - Shawn & Terri Grady, G.E.E.! Communications & Network Solutions
2004 - Pierre Medawar, Medawar Jewelers
2004 - John J. Castillo, Castillo & Associates, Inc.
2004 - Dorothy E. Maxwell, Gems & Jewels/Max Weingar Group
2003 - Roy C. Saper, Saper Galleries and Custom Framing
2003 - Martin L. Saper, SCORE
2003 - G. Umakanth, Symbiosis International
2002 - Robert Fish, Mary Roszel, Mike McFall, Beaner's Gourmet Coffee
2002 - Michael Skory, Skory, Inc.
2002 - Kelly Rossman-McKinney, Truscott Rossman
2002 - David Hayhow, Prime Management
2002 - Bo Garcia, Small Business Development Center at Lansing Community College
2001 - John Sharnetsky, Northstar Environmental Services
2001 - Jamie Czekai, Old Town Commercial Association
2001 - David Lick, Loomis. Ewert, Parsley, Davis & Gotting P.C.
2001 - Craig Harris, Turkeyman
2000 - Leanne Stites, Principal Shopping District
2000 - Anita Covert, Country Stitches
1999 - Terry Terry, Message Makers
1999 - Kellie Dean, Dean Transportation
1998 - Robert Trezise, Delta Economic Development Corp.
1998 - Kathie Drolett, Drolett Travel
1997 - Robert & Theresa Hubbell, Prudential Hubbell Real Estate Co.
1997 - Richard Haskins, S.C.O.R.E.
1996 - Rachelle Neal, Capitol Research Services
1996 - Dee Smith, Lansing Community College
1995 - Ray Tadgerson, Capital Consultants
1995 - Ed Carpenter, Liskey's Professional Wheel Service
1994 - Noelle Clark, Hasselbring-Clark Company
1994 - Gary Granger, Granger Construction Company
1993 - Mary Ellen Sheets, Two Men & A Truck
1993 - Iris Socolofsky-Linder, Fraser, Trebilcock, Davis & Foster P.C.
1992 - Theda Rudd, McDonald's Restaurants
1992 - Bob Carr, Capitol National Bank
1991 - David O'Leary, O'Leary Paint
1991 - David Marvin, Fraser, Trebilcock, Davis & Foster P.C.
1990 - Priscilla Peterson, MRI/Office Mates 5
1990 - John O'Malia, Snell Environmental Group
1989 - Jose Gamez, Aztec Industries
1989 - John Dodge, Sneekers of Lansing/ROI Golf Mgmt
1989 - Chris Holman, Greater Lansing Business Monthly
1988 - Wayne Williams, Williams Auto World
1988 - Theda Rudd, McDonalds
1988 - Ed Souders, Entre Computer Services
1987 - Pat Hanes, Howard & Howard Attorneys
1987 - Joe Landis, Microform Systems, Inc.
1986 - Alyson Steele, Uniforce Temporary Services
1986 - Alan Suits, Recomtex
1985 - Dan Fatalleh, Delphi Glass Corp.
1984 - Robert Kleiman, RBK Corporation
1983 - Richard Bahls, Elliott Store Fixtures
1982 - David Buxton, Spartan Paper & Office Supply, Inc.
Started in 2010, the Legacy Award is designed to recognize a long-standing Lansing Regional Chamber member and their long-term commitment to economic growth and community investment in the Greater Lansing region.
2020: Quality Dairy
2019: Christman Company
2018: Lansing Ice & Fuel
2017: The Greater Lansing Association of Realtors
2016: Lyman & Sheets Insurance Agency
2015: Sohn Linen Service
2014: Legg Lumber
2013: PNC Bank
2012: Consumers Energy
2011: Maner Costerisan
2010: Kositchek's Menswear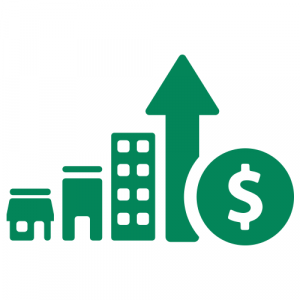 Celebration of Regional Growth
The Celebration of Regional Growth (CORG) Awards is held in November and is a must-attend event that celebrates the investments that are reshaping and transforming our region. Since 2006, more than 70 companies have been recognized and have combined to contribute billions to the regional economy.
2021 Recipients
Allen Neighborhood Center
Bekum America Coporation
High Caliber Karting & Entertainment
Lansing Board of Water & Light
McLaren Greater Lansing
2020 Recipients
Gillespie Group
Michigan State Capitol Commission 
Sparrow 
Coleman Road Project: Ingham Co., Clinton Co., Dewitt Charter Township. City of East Lansing
2019 Recipients
GM
Glanbia
Meijer
MSU Foundation, VanCamp Incubator
Peak Performance Physical Therapy
SETSEG
2018 Recipients
Application Specialist Kompany (ASK)
Auto Owners Insurance
Cinnaire
Harbor Bay Real Estate Advisors
2017 Recipients
Eaton Rapids Medical Center
The Gillespie Company
LoAnn Oils*
Pratt & Whitney
2016 Recipients
Sparrow Health System
Block Imaging*
MSU Federal Credit Union
Lansing Community College
2015 Recipients
Dart Container Corporation
Jackson National Life Insurance
Magna International
TOC Logistics International
Triton Industries, Inc. (Manitou)
2014 Recipients
Two Men and a Truck International
Hayes Green Beach Memorial Hospital
The Michigan State University Bioengineering Building
The Hope Sports Complex
Michigan Veneer
2013 Recipients
Agro-Culture Liquid Fertilizers
Emergent BioSolutions
The Eyde Company
IDV Solutions
Plas-Labs, Inc
2012 Recipients
Bekum America Corporation*
Capital Steel & Wire, Inc.
Eli and Edythe Broad Art Museum
Lansing Board of Water and Light
Netvantage Marketing**
2011 Recipients
Air Lift Company
Biggby Coffee
Dowding Industries*
Gillespie Group
2010 Recipients
Accident Fund Insurance Company of America
Dean Transportation
HRU Technical Resources, Inc.
Neogen Corporation*
2009 Recipients
Facility for Rare Isotope Beams (FRIB)*
General Motors
Granger
Greenstone Farm Credit Services
Jackson National Life
Lansing Board of Water and Light (BWL)
Technology Innovation Center (TIC)
2008 Recipients
Capital Region International Airport
Delta Dental of Michigan
MAHLE Engine Components USA, Inc
Niowave, Inc.*
Two Men & A Truck
Wharton Center for Performing Arts
2007 Recipients
Auto-Owners Insurance
Christman Company
Demmer Corporation
Meijer, Inc.
Peckham, Inc.
MSU Federal Credit Union
The Wieland-Davco Corporation
2006 Recipients
Emergent BioSolutions
Gestamp US Hardtech Corp.
Ingham Regional Medical Center
Liquid Web
Neogen Corporation
Sparrow Health System
Spartan Motors Inc.
TechSmith
*International Trade Award
**Emerging Economy Award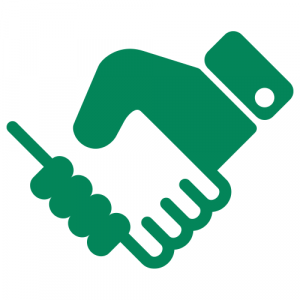 Lansing Economic Club
The Lansing Economic Club luncheons feature local, national and world-renowned speakers who cover a variety of business-related topics, such as leadership, innovation and industry trends. The monthly events serve as an excellent opportunity to network with more than 450 regional community, business and education leaders.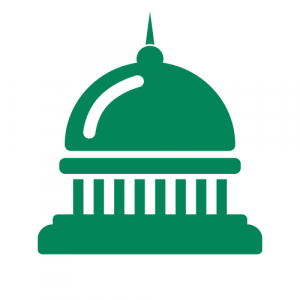 Policy Forum
Enjoy an evening of networking and policy discussion with local, state and federal lawmakers. The Policy Forum is held in the spring and unites business leaders, lawmakers, decision-makers, and chamber officials from across the state and nation.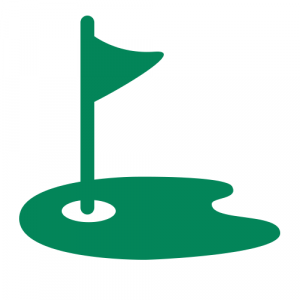 Lansing Open
We are pleased to host the region's premier golf outing, attracting more than 150 golfers annually. The event is held in the late summer and serves as a wonderful occasion to network while enjoying a fun, relaxing day on one of Michigan's most pristine courses.