Lansing Regional Chamber Launched New Website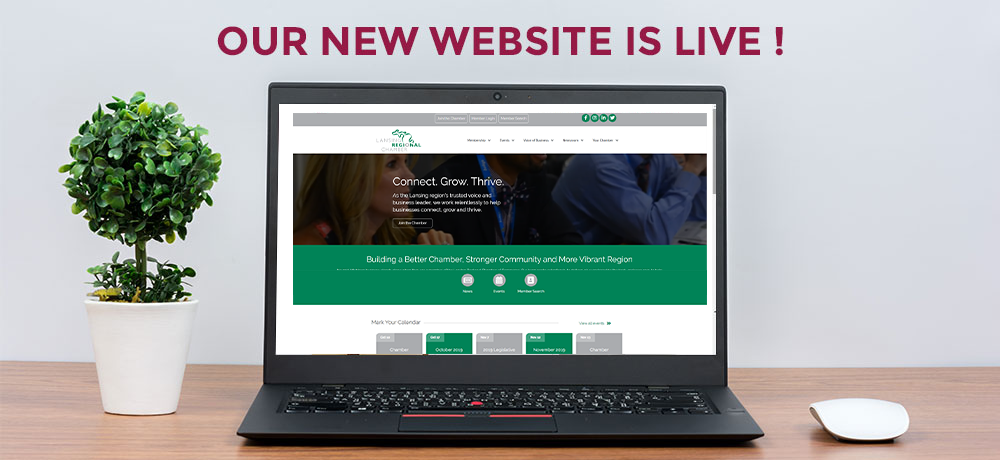 As your Chamber of Commerce, we work relentlessly to help Lansing area businesses connect, grow and thrive. Back in 2017, we went through a rigorous strategic planning process where we identified four pillars that help drive our actions toward reaching that mission. Those pillars are Regional Leadership, Policy Influence, Business Value and Excellent Operations.
In order to continue to deliver in those four areas, we made the decision to launch a new website through the GrowthZone platform. Although the web address is still lansingchamber.org, Chamber members and community leaders will find an entirely new look and ease when visiting the site.
"As we near 2020, we recognize that a clean, user-friendly website that serves as a one-stop shop, is vital to ensuring current and future members can easily find all the information and resources they need to be successful, in addition to accessing Chamber events, staff contact information and more," said Michelle Rahl, vice president of business development.
Because this web platform was specifically designed with chambers of commerce in mind, the site has features and functions that make website operation especially optimal for businesses and their Chamber needs. Some features visitors will enjoy are:
• A sleek, interactive look
• Easy membership sign-up
• Simple and smart event registration
• Online award nominations and applications
• Chamber and community videos
• Member help desk
• Optimal online payment and renewal process
• Easy-to-use member profiles
• Digital version of FOCUS Magazine
It is our hope that members and the community will utilize our new website for business education and engagement opportunities, guidance on regional issues, connection to the Lansing business community and all other Chamber-related needs.
Members should keep an eye on their email for instructions on how to set up their new user profiles, as well as tutorials on how to get the most out of our new site. We also recognize that a website is never really done, and we welcome any feedback or suggestions regarding our new site.