Driven to Success: AAA Membership is 60 Million Strong
1 in 4 U.S. Households Belong to North America's Largest Motoring and Leisure Travel Organization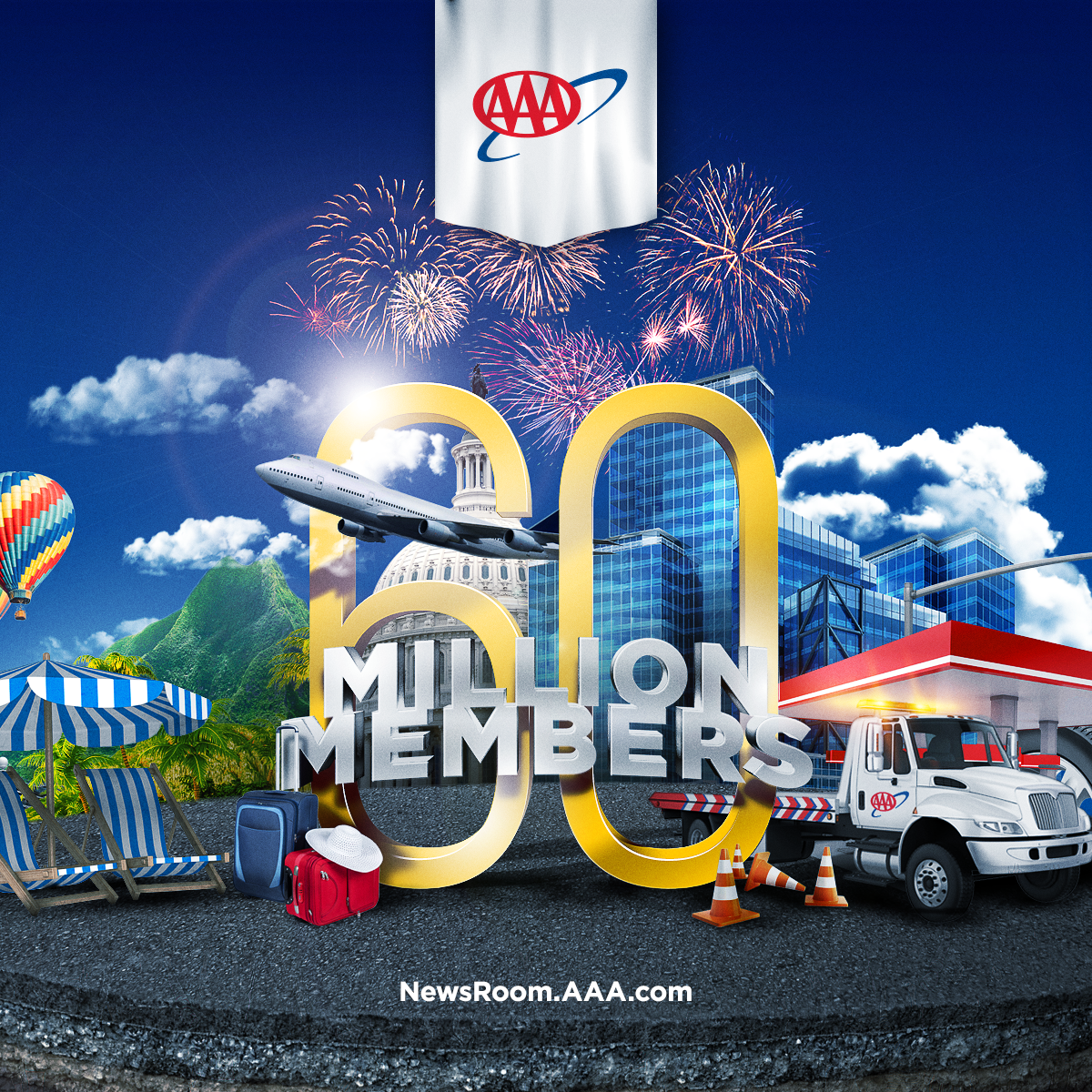 AAA has hit the milestone mark of 60 million members, making the motoring and leisure travel organization one of the largest membership associations in North America. Since 1902, AAA has been an iconic brand that evokes feelings of safety, security and peace of mind, with 1 in 4 U.S. households today being proud AAA card-carrying members.
This achievement is a result of AAA's intense focus on meeting members' evolving needs in an ever-changing technology and travel environment while also staying focused on the qualities on which millions have relied for generations.
"AAA is incredibly grateful to each one of our 60 million members and we take their loyalty and trust in us seriously," said AAA President and CEO Marshall Doney. "For 117 years, we have put members first with unwavering commitment. We will continue to provide them with quality service at the roadside, trusted travel expertise, unparalleled discounts and rewards, and leading traffic safety research and advocacy to ensure that everyone arrives home safely at the end of the day."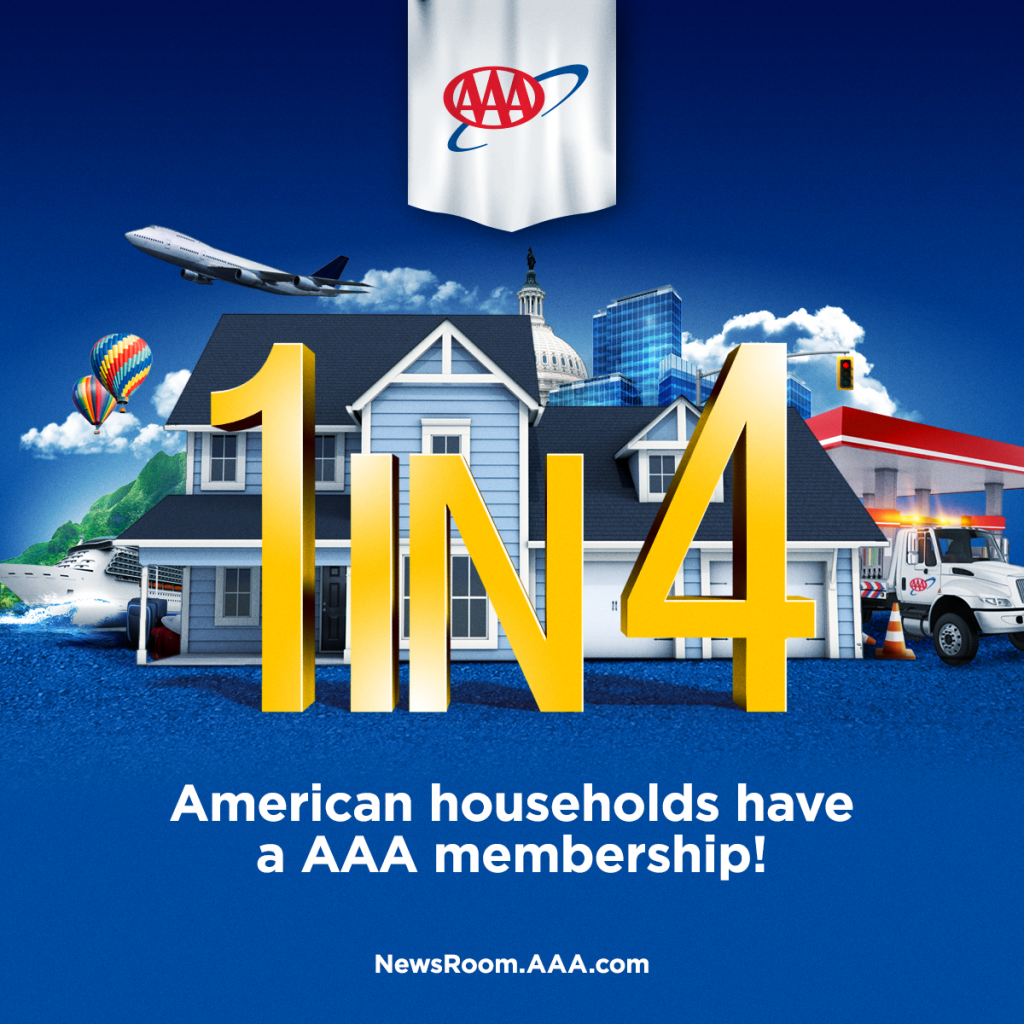 AAA knows innovation is key and strategic adaptation is necessary to stay competitive. Over the last decade, AAA has invested in digital solutions to meet evolving consumer expectations, including the launch of the AAA app, real-time text notifications and tracking en route roadside assistance. AAA has also introduced the ability to use home digital assistants to connect with AAA or request service through third-party apps, like Waze.
A century after society's transformational adoption of the automobile, the association has made membership as easy as the touch of a button and more enticing. So much so that millennials – a tech savvy generation – make up nearly 30% of AAA's new primary members.
"The AAA brand remains strong and relevant," said AAA Board of Directors Chair Bill Mekrut. "Roadside assistance consistently is members' primary reason to join – and AAA handles more than 30 million calls a year. Yet, as our members' way of life evolves, so will AAA with relevant products and services that meet their needs."
As AAA looks to the future, the organization is exploring new mobility solutions and working to educate our members and others about the exciting possibilities and current limitations of evolving vehicle technologies to help ensure a safe transition to mobility of the future.
"AAA has a reputation as one of America's most trusted brands and we will continue to live up to this expectation as the association drives toward 70 million members," concluded Doney.
AAA in Michigan celebrated its 100th Anniversary – A Century of Service in 2016 and has over 1.4 million members across the state. It is part of The Auto Club Group (ACG). Connect with us on Facebook and LinkedIn.The Auto Club Group (ACG) is the second largest AAA club in North America. ACG and its affiliates provide membership, insurance, financial services and travel offerings to over 9.9 million members across eleven states and two U.S. territories including Florida, Georgia, Iowa, Michigan, Nebraska, North Dakota, Tennessee, Wisconsin, Puerto Rico and the U.S. Virgin Islands; most of Illinois and Minnesota; and a portion of Indiana. ACG belongs to the national AAA federation with 60 million members in the United States and Canada and whose mission includes protecting and advancing freedom of mobility and improving traffic safety. Motorists can map a route, identify gas prices, find discounts, book a hotel, and access AAA roadside assistance with the AAA Mobile app for iPhone, iPad and Android. Learn more at AAA.com/mobile. AAA clubs can be visited on the Internet at AAA.com