Blue Cross Welcomes CEO Action for Diversity and Inclusion Tour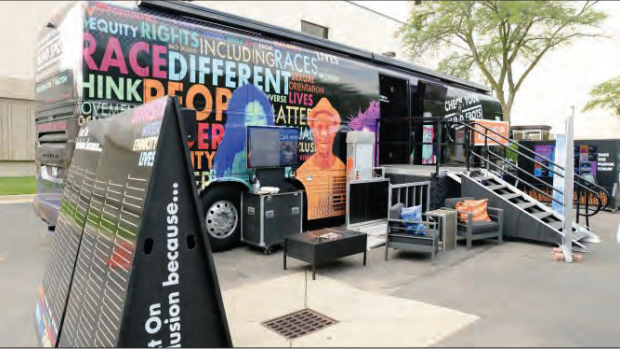 What is CEO action? It's the largest business-driven commitment to workplace diversity in the U.S. This growing collaboration between businesses, nonprofits and educational institutions encourages inclusion by combating bias.
In September 2018, Blue Cross Blue Shield of Michigan President and CEO Daniel J. Loepp became one of 700- plus executives to sign the CEO Action for Diversity and Inclusion Pledge. The document supports a nationwide effort to create work environments where all employees feel welcomed, respected and valued. In addition, Blue Cross is one of many companies to participate in the Check Your Blind Spots Unconscious Bias Tour.
On Wednesday, July 31, the CEO Action for Diversity and Inclusion bus made a stop at Blue Cross headquarters in Downtown Detroit. In conjunction with Ally Financial, employees had the unique opportunity to partake in interactive exercises that explore unconscious bias. The event was introduced by Reggie Willis, director of diversity and inclusion, Ally Financial and Tricia Keith, executive vice president, chief of staff and corporate secretary, BCBSM.
"We're proud of our diversity and inclusion initiatives year-round, and the 'Check Your Blind Spots' mobile tour was another great way for our employees to further develop their cultural competency," Keith said. "Thus far, more than 12 million people have gone through the experience, which utilizes virtual reality and gaming technology."
The bus features multiple stations with immersive activities that are both challenging and illuminating. Employees walk through different scenarios that may occur at work, in their neighborhood or at a store. Each interaction highlights an implicit or complicit bias people may face due to their race, gender, class, sexual orientation, etc.
Some situations are straightforward, while others are shockingly subtle. Regardless of the approach, the outcome is always similar. Multiple microaggressions, intentional or unintentional, can be just as damaging as overt discrimination.
One of the most eye-opening exercises asks employees to evaluate their personal and professional peer groups. How diverse are your co-workers? What's the predominant ethnic group at your church? What's the racial background of the last person you had dinner with? Each query illustrates an opportunity to focus on inclusion throughout your daily life.
This type of reveal is the primary purpose of "checking your blind spots." By the end, participants have a clear understanding of how assumptions can rob people of opportunities and undercut their potential. To reinforce their commitment to inclusion, onsite employees were able to sign the I Act on Pledge.