Lansing Regional Chamber Announces Winners of Community Service, Outstanding Small Business and Legacy Awards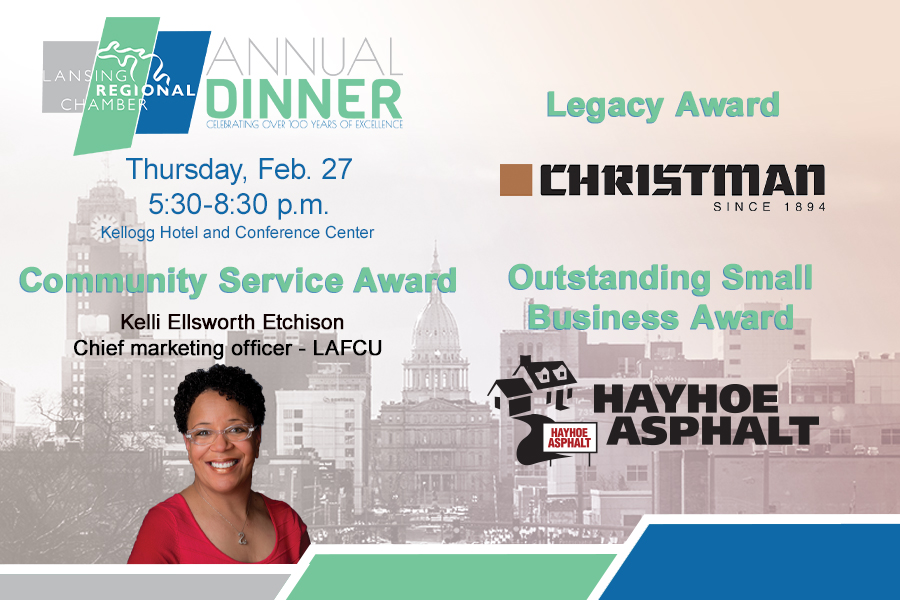 The Lansing Regional Chamber of Commerce (LRCC) has announced the recipients of three major awards, which will be presented at the Chamber's upcoming Annual Dinner on Thursday, Feb. 27. The 2019 award recipients include:
Kelli Ellsworth Etchison, Community Service Award
Hayhoe Asphalt, Outstanding Small Business Award
The Christman Company, Legacy Award
Community Service: Kelli Ellsworth Etchison, LAFCU
Kelli Ellsworth Etchison is chief marketing officer at LAFCU, where she manages marketing and public relations activities, internship and member education programs, develops and supports strategic initiatives and assists with product and service development. Ellsworth Etchison's volunteerism spans from serving on the cleaning committee at her church to being tapped as the first African American female board chairperson for the YMCA of Metropolitan Lansing. Other community organizations in which she holds or has held leadership positions include the Lansing Community College Foundation board of directors, Dr. Martin Luther King Jr. Commission of Mid-Michigan, Greater Lansing Area Dr. Martin Luther King Jr. Holiday Commission, Capital Area United Way, Rotary Club of Lansing and the Mayor's Drug Free Youth Committee.  In 2017, she received the prestigious National Sojourner Truth Meritorious Service Award by the Greater Lansing Area Club Chapter of the National Association of Negro Business and Professional Women's Clubs.
"I am extremely honored and grateful to be nominated and selected to receive such a prestigious award for doing something that I love; which is serving this amazing community," said Ellsworth Etchison.
Outstanding Small Business: Hayhoe Asphalt Paving/Amanda Hayhoe
Founded in 1968 by Lloyd Hayhoe in Mason, Mich., Hayhoe Asphalt has always been run by the Hayhoe family. Hayhoe Asphalt is a full-service asphalt company that provides both commercial and residential asphalt paving and maintenance services. Almost half of the company's employees have been with the company more than 15 years. Many of its current clients are second and third generation families. Amanda Hayhoe-Kruger is the president and third-generation owner of Hayhoe Asphalt Paving. Amanda has received several awards during her tenure at Hayhoe Asphalt, including Best of MichBusiness Success (2018), Michigan 50 Companies to Watch (2016), Corp! Magazine 50 Companies to Watch (2016), Holt Education Foundation Outstanding Alumna (2016) and South Lansing Business Association Community Service Achievement (2015). She has served on multiple nonprofit boards and advisory committees in the Lansing area. She believes deeply in giving back to the local community that has supported her family's business for over 50 years. Amanda said she was very humbled to be included among an amazing group of businesses that have previously won the Outstanding Small Business Award.
"Many of those companies have been an inspiration to small business owners like me," said Hayhoe-Kruger. "When I think of the contributions those companies have made in the Greater Lansing area, for Hayhoe Asphalt to be included is an honor and very humbling."
Legacy Award: The Christman Company
The Christman Company has been a proud member of the Lansing Regional Chamber for 66 years. Founded in 1894 by H.G. Christman in South Bend, Ind., The Christman Company opened its Lansing, Michigan office in 1915. From the beginning, Christman's corporate culture was built around the values of what the company calls, The Christman Way. The values include honoring commitments with integrity, teamwork, mutual respect, recognition of excellence, a passion for our work, a competitive spirit and a focus on developing long-term relationships. Annual revenues produce more than $700 million, with over $3 billion in construction currently underway. Christman is proud to be an active and significant contributor to the local communities by individual and team volunteerism, corporate giving, sponsorships and partnerships.
"It is a great honor to receive the Lansing Regional Chamber of Commerce Legacy Award," said Steve Roznowski, CEO, Christman. "I can't think of a better way to kick off 2020. Lansing is where we built Christman's foundation and thanks to the leadership of organizations like the Chamber, it is a region that continues to fuel our success at our corporate headquarters today. We are thankful for Lansing's tremendous pipeline of talent, strong economic vitality and unrelenting "can-do" spirit."
The LRCC Annual Dinner will take place on Thursday, Feb. 27 from 5:30 to 8:30 p.m. at the Michigan State University Kellogg Center and Conference Center. Tickets are available by contacting Ashlee Willis at michiganpremierevents@lansingchamber.org. Event information can be found at www.lansingchamber.org.