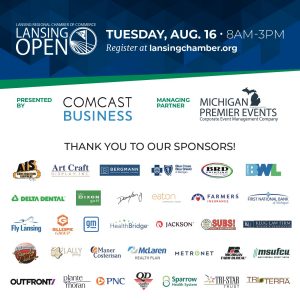 Thank you for Golfing in the Lansing Open
Tues. August 16, 2022 | 8:00am - 3:00pm
Eagle Eye Golf & Banquet Center | 15101 Chandler Rd., Bath, MI 48808
Make sure to download the MemberPlus App and  join the Lansing Open Updates list to receive important event updates and tee time reminders
MemberPlus - Apps on Google Play
****Please check in at the registration table 15 minutes prior to your tee time***
During your 18 holes of golf BOGEY IS YOUR FRIEND! 
Breakfast and Coffee will be provided starting at 8am.  Thank you to Breakfast Sponsors: Douglas J & Quality Dairy and Coffee Sponsor: Lansing Board of Water and Light
Information regarding Eagle Eye Golf Course's health and safety guidelines is available online.
Super Tickets and Skins are available for PRE-SALE. Purchases can be made HERE.  All golfers must purchase Super Tickets to be entered into Skins or $20 per team without Super Tickets
Super Tickets include:

2 Mulligans
Hole-in-One contests
Participation in 'Skins' golf game*
Entry in all prize drawings
Lunches will be provided to golfers on the course. Thank you to our Lunch Sponsor, Physicians Health Plan!
Golfers will receive two drink tickets. Thank you to our beverage cart sponsor, Triterra!
Golf carts will be available. Thank you to our Players Cart sponsor McLaren Health Plan.
Enjoy networking and light appetizers on the outside patio and in the banquet room after you complete 18 holes of golf. Thank you to our Afterglow Sponsor Delta Dental of Michigan.
Awards, scores, and prizes will be announced the following day via email.