Lansing Regional Chamber Announces Recipients of Community Service, Outstanding Small Business, Diversity Star and Legacy Awards
Recipients to be Honored at the LRCC Annual Dinner on May 10
LANSING, Mich. - The Lansing Regional Chamber of Commerce (LRCC) has announced the recipients of four major awards, which will be presented at the LRCC's upcoming Annual Dinner on Wednesday, May 10.
The award recipients include:
• Outstanding Small Business: FD Hayes Electric Company
• Community Service Award: Jim Herbert, retired CEO, Neogen Corporation
• Diversity Star Award (in partnership with LEAP): CASE Credit Union
• Legacy Award: Comerica Bank, celebrating 84 years of membership investment with the Lansing Regional Chamber
"All four of our award winners have established remarkable legacies in our region. It is a privilege for the Lansing Regional Chamber to recognize these well-deserving individuals and organizations," said Tim Daman, president and CEO, LRCC. "Jim Herbert has built an incredible legacy as a leader in business and philanthropy. F.D. Hayes Electric has established a century of being one of Michigan's leaders in their industry. CASE Credit Union is building a legacy as a leader in diversity, equity and inclusion. Comerica Bank continues its longstanding commitment in helping grow business and our region as a whole."
Community Service Award: James Herbert, Neogen Corporation
James Herbert was one of the founders and longtime CEO of Lansing-based Neogen, which specializes in food and animal safety as well as life sciences and toxicology. In addition to building a global leader in the industry, Herbert and his team helped rejuvenate urban neighborhoods in the Lansing region through the transformation of former school buildings into office and research facilities. Jim and his wife Judith, both cancer survivors, donated $2.5 million towards the construction of the Sparrow Herbert-Herman Cancer Center. The couple later donated an additional $5 million, which is the largest gift in the history of Sparrow Health Systems to fund advances in the diagnosis and treatment of cancer through genomics and precision medicine.
"We look at what we've done as a way to give back," said Herbert. "In the bible it says 'to him who much is given, much is expected.' We were certainly given a lot and we've been trying to give some of that back."

Outstanding Small Business Award: F.D. Hayes Electric Company
F.D. Hayes Electric Co celebrates 100 years in business in 2023. One of the trademarks of their longevity has been the commitment to family values, which has held true through four generations. Now, with President & CEO Megan Doherty at the helm, F.D. Hayes is a family-run and woman-owned business that remains one of Michigan's leading residential and commercial electrical and data communications businesses. F.D Hayes Electric was a 2021 Awardee of the Michigan Celebrates Small Business 50 Companies to Watch. The company has received numerous other awards including the Associated General Contractors Marvin M. Black Excellence in Partnering Award for the Magnesium Products of American project in Eaton Rapids.
"This was a massive milestone for us this year, but this award is incredible," said Megan Doherty, president & CEO, F.D. Hayes Electric Co. "I know there were brilliant companies nominated. Being chosen is such a tremendous honor and even just being considered among them is an honor in itself."

Diversity Star Award: CASE Credit Union:
The LRCC and the Lansing Economic Area Partnership (LEAP) have joined forces to create this award honoring organizations that champion diversity, equity, and inclusion in the workplace and throughout the Lansing community.
CASE Credit Union believes in the importance of diversity in the small business community and see DEI as catalysts for positive change and growth in their communities. Diversity is one of CASE's deeply-rooted core values. The company strongly believes in treating every person who walks through their door with fairness and respect. CASE Credit Union strives every day to nurture a safe and welcoming work environment for all our employees, members and community partners. The company believes developing a diverse workforce enhances its ability to engage with their whole community and gives employees the power to innovate in the name of enhancing the customer experience.
"I am beyond proud to continue to serve the underserved", said Jeff Benson, CEO, CASE Credit Union. "At CASE, anyone walking in or a part of our team should feel welcome and this award helps show we are doing just that."

Legacy Award: Comerica Bank
The Legacy Award was created to recognize organizations for their long-time commitment as dedicated members and investors in the Lansing Regional Chamber of Commerce. LRCC proudly recognizes Comerica Bank as a Chamber member and investor for 84 years and thanks them for their engagement with our organization and your steadfast commitment to our region. Comerica continues to make vast contributions which can be seen through the thousands of businesses they have helped grow and the community organizations they continue to support across the region.
"Being a long-time member of the Chamber has given us a venue to connect both with existing clients as well as prospects for future business," said Christopher Nugent, vice president & commercial relationship manager, Comerica. "We are very proud of the many services that we offer which provides valuable information and resources to help grow many local businesses."
The Lansing Regional Chamber of Commerce Annual Dinner takes place on Wednesday, May 10 from 5:00 to 8:00 p.m. at the Michigan State University Kellogg Hotel and Conference Center. Questions can be directed to Ashlee Willis at michiganpremierevents@lansingchamber.org. Tickets are $95 for LRCC members and $140 for future members. Registration and additional information can be found at www.lansingchamber.org.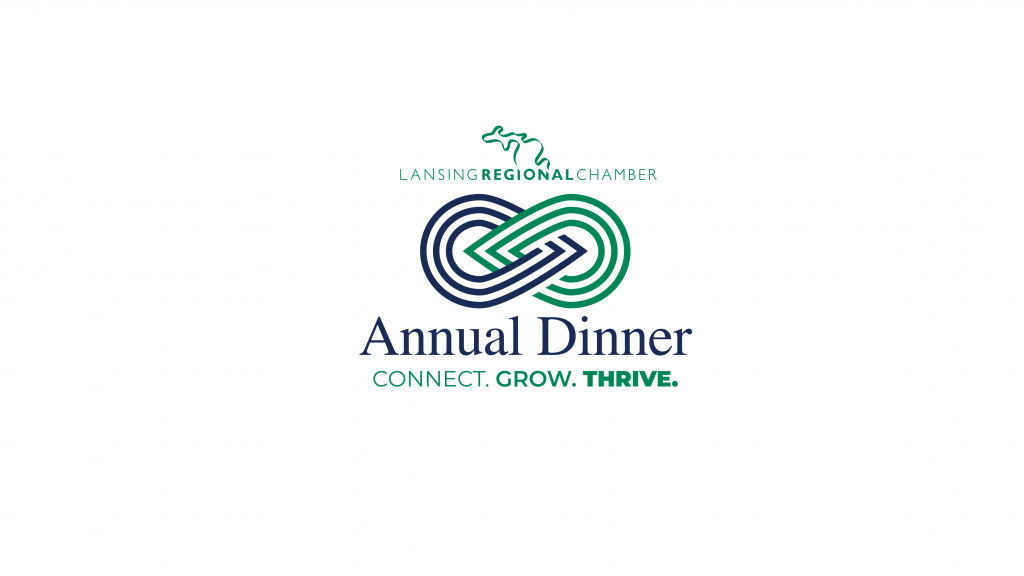 About the Lansing Regional Chamber of Commerce:
The Lansing Regional Chamber of Commerce works relentlessly to help businesses connect, grow, and thrive. No mid-Michigan business stands alone when they are a member of the Chamber. For 122 years, the Lansing Chamber has served as the voice of the Greater Lansing business community. More information about LRCC and its programs and services can be found online at lansingchamber.org, Facebook, Instagram (@lansingregionalchamber), Twitter (@lansingchamber) and LinkedIn.