Lansing Regional Chamber of Commerce Announces Endorsements in East Lansing City Council Races
The Lansing Regional Chamber of Commerce Political Action Committee (LRC-PAC) has announced its endorsements in the 2023 races for East Lansing City Council. Endorsed candidates include:
Kerry Ebersole Singh
Noel Garcia, Jr.
Mark Meadows
"East Lansing has faced its fair share of challenges, which have prompted growth and opportunities for unity within city hall and the community," said Steve Japinga, Senior Vice President of Public Affairs at the Lansing Regional Chamber of Commerce. "Electing city council members who are dedicated to fostering teamwork, establishing stability in city governance, and steering the city towards a positive trajectory is of utmost importance. Equally significant is the city officials' embrace of a cooperative approach to problem-solving, harnessing the potential of public/private partnerships for the betterment of our community."
The 2023 General Election will be held on Tuesday, November 7. Endorsed candidates background:
Kerry Ebersole Singh is currently the executive vice president and chief talent solutions and engagement officer for the Michigan Economic Development Corporation. She lists stabilizing city government as a top priority. Kerry's vision for East Lasing City Council includes implementing best practices, working collaboratively with MSU, the East Lansing schools, and the city. Kerry is committed to driving regional collaboration, spurring smart economic development growth, retaining talent, and strengthening our arts, culture, and public spaces.
Noel Garcia, Jr. spent 25 years in law enforcement including a variety of roles with the Lansing Police Department. Garcia is currently an instructor at the Ingham Intermediate School District Wilson Talent Center in the law enforcement program. He was appointed to the East Lansing City Council in January 2023. He believes public safety and leadership are leading priorities for East Lansing. He plans to focus on bringing stability to the city's workforce.
Mark Meadows has enjoyed a long career in public service including serving as mayor of East Lansing and a member of the East Lansing City Council. He also served as a state representative and assistant attorney general. He intends to focus on rebuilding the city's workforce. His other priorities include diversifying the housing stock, strengthening the city's finances and improving the local economy.
The LRC-PAC's endorsement process includes a review of a candidate's performance, a written questionnaire, and, in some cases, an in-person interview. Only after this process is completed and a vote of the LRC-PAC Board is taken can a candidate be endorsed and be considered for financial support.
Learn more about the LRC-PAC here: https://www.lansingchamber.org/lrc-pac/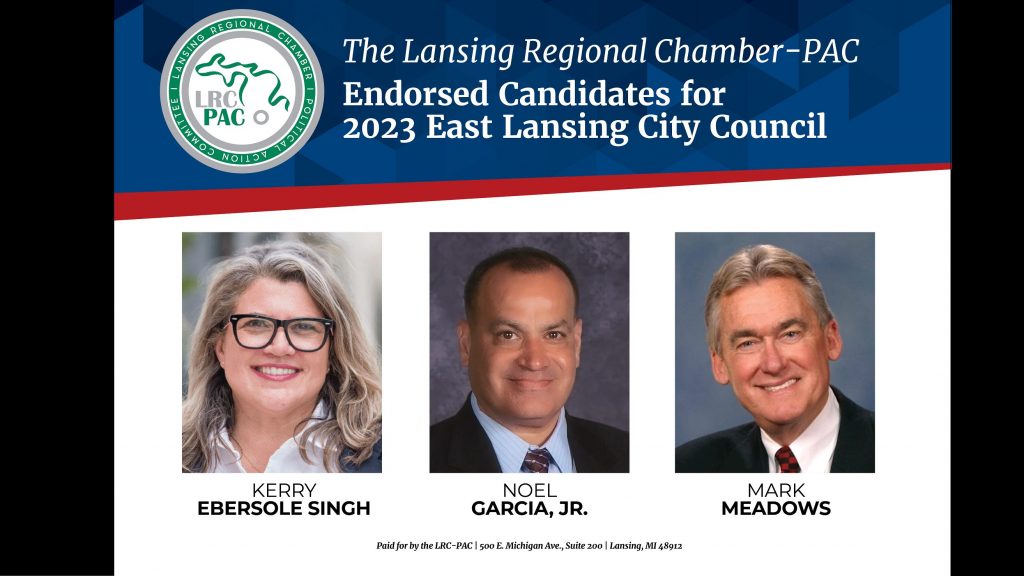 ###
LRC-PAC is the political action committee of the Lansing Regional Chamber of Commerce, representing over 1,100 businesses in the tri-county region. The objective of LRC-PAC is to endorse candidates that support a favorable business climate throughout the region.